Spring has arrived! Greet the Spring season by ushering OUT the old items in your home and welcoming IN some new finds from the JHA Spring Yard Sale. Bring your kids and families, tell your friends and neighbors – there will be something for everyone to enjoy at our multi-family yard sale!
Live in the area and have some items you're looking to sell?  Add your house here.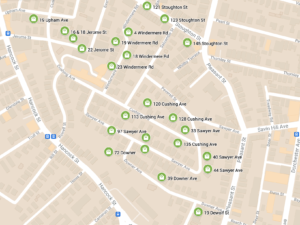 Just some of the treasures you'll find at the Jones Hill Clean Out & Neighborhood Yard Sale: outdoor summer sports equipment, tarps, books (children and adults), milkglass, furniture (small, wrought iron, baby/toddler), kitchen items, knick knacks, vinyl, clothes (men, women, children), silver plate serving pieces, Scalamadre fabric remnants, frames, vintage clothes, plant starts, esoterica, glassware, clothing, bicycles, cd's, toys, craft supplies, tires (regular, snow), humidifiers,rugs, mirrors, rice cooker, mugs, pottery, prints, blinds, lamp shades, Jeep Wrangler bumpers and floor mats, garden supplies.
List of Addresses:
19 DeWolf St
39 Downer Ave
72 Downer Ave
97 Sawyer Ave
77 Sawyer Ave
73 Sawyer Ave
44 Sawyer Ave
40 Sawyer Ave
33 Sawyer Ave
135 Cushing Ave
128 Cushing Ave
120 Cushing Ave
113 Cushing Ave
145 Stoughton St
123 Stoughton St
121 Stoughton St
4 Windermere Rd
18 Windermere Rd
19 Windermere Rd
23 Windermere Rd
16 Jerome St
18 Jerome St
22 Jerome St
19 Upham Ave