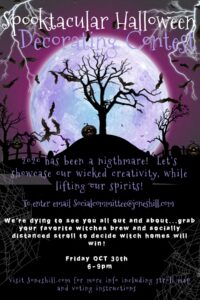 2020 has been a nightmare! Let's showcase our neighborhoods wicked creativity while lifting our spirits!!
Don't be a lazy bones! Get busy spooking up your homes for a chance to win one of three categories:
The Ghostess with the mostest, best overall theme
The Horror House, scariest house
Laughing til I'm Coffin – Funniest
Winners will each receive a $25 gift card from a local business
Who can enter? Any house on Jones Hill! To enter your home in the contest, email socialcommittee@joneshill.com with your name and address, no later than Saturday, October 24th.
How to vote:
Thursday, Oct 29th a map of participating homes will be released on JonesHill.com.
We're dying to see all of you out and about, so grab your favorite witches brew and join your neighbors for a socially distanced stroll to determine witch homes will win – Friday, Oct 30th from 6-9pm.
Voting will be open (via Joneshill.com) from 6pm, October 30th until Noon, Oct 31st. Winners will be announced at 5pm on Halloween!
Don't be stricken like the test above! What are you afraid of?? Just follow this link to reanimated, we mean revised information for your spell-binding socially distanced stroll and vote.