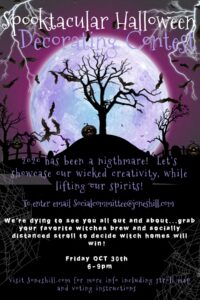 The Inaugural JHA Halloween Decorating Contest is not yet over, and the undead will roam the Hill for eternity…. unless you do your part!!
We can't wait to see all of you ghouls and goblins around the neighborhood tomorrow night!
We have
 13 wicked creative creations to share with you…
Use this ghostly map to help you find all 13 houses on your spooky stroll:
Voting will close at 3pm on Sunday and winners be announced Sunday night!!